What better way to round up the year than by picking my top five reads. I mentioned the titles of my top books in my introductory blog post and thought it would be good to expand on exactly what I loved about them. This year I have tried to think about how the books made me feel both when I read them and after I had finished. All of the books below made me fall in love with reading all over again and that's why they are my top five.
Without further ado, in no particular order here are my top five reads of 2021:
The Seven Husbands of Evelyn Hugo by Taylor Jenkins Reid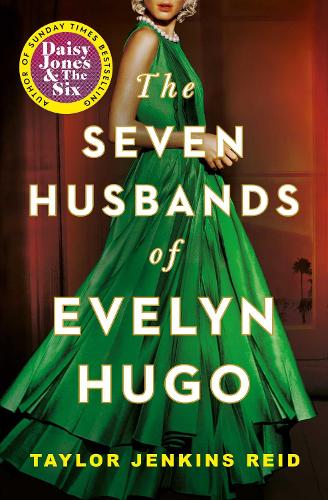 If you haven't seen this book all over Instagram and TikTok this year you have most definitely been living under a rock. This actually made me quite apprehensive to read it as I so desperately did not want to be disappointed and I can assure you- I did not need to worry. This book was the first book I read of Reid's and I loved her writing style and the incredible skill that she has at bringing character's alive. I think of all of the books I have read this year and every character that I have loved and hated the one that I connected to the most was definitely Evelyn. Even now writing this I feel as though I know her, I was transported into her world and adored every moment of what I found.
Pachinko by Min Jin Lee
This book resonated with me in a way that no other book this year has. It was so intelligently and beautifully written that I believe it will become a classic of our generation. The writing style fits the narrative of the story exactly and the way that heart breaking moments aren't made better with words just makes this book so clever and eye opening. This was the first book I had read focussed on on Japanese and Korean culture before, during and after the Pacific War and I found it incredibly educational. This book is definitely the type of book that makes your mind grow, when I wasn't reading it, I was thinking about it. This book is definitely the book I have recommended the most to others this year.
Verity by Colleen Hoover
Colleen Hoover has actually been my most read author of 2021 and I find her writing style completely captivating. Quite honestly she could write about the most boring topic imaginable and I would probably still be engrossed by the way that she writes. This book is brilliant, it is so different from any of her other works and believe me, the risk of her branching out really paid off. This book is dark, it is triggering and it discusses topics that are seen to be taboo in graphic detail so I would definitely advice reading with care. This book blew my mind, it left me speechless and the theories I have read since reading it have just made it even better. I love a book that leaves you with questions whilst giving you enough hints to try and answer them for yourself. If you have read it, you will know exactly what I mean when I say that I am firmly on 'team manuscript'.
The Bookseller of Dachau by Shari J Ryan
This book was actually a book that I was sent through NetGalley to read and review. I went into it expecting a standard WW2 Historical Fiction but I couldn't have been more wrong. I have read a number of books focussed on the concentration camps during WW2 but none of them have made me feel what this book has. I think partly due to the dual timeline approach to telling the story it gave a completely different feel that was not all sombre. Believe it or not, I believe that this book was actually one of the most heart warming books I read this year when given the basis of the story this should not be the case. This book is full of hope, it demonstrates perfectly the power of love in hardship and I just adored all of the characters wholeheartedly. This book is definitely the type of book I would recommend to anyone regardless of their age/gender/interest.
A Good Girls Guide to Murder by Holly Jackson
Although I had never read this series before it filled me with nostalgia for all of the young adult series that got me through being a teenager. Series like this at one point in my life were my biggest comfort and this one matched all of my favourites from back then. Jackson wrote a story that was so addictive that I read the full series in three days. The story had twists and turns in every direction and the characters were completely lovable. The first book in the series was definitely my favourite as it had the biggest element of unknown however the full trilogy was really enjoyable. With it being young adult it didn't get to dark and the writing style had an ease to it that made it flow excellently. This book felt like watching a romcom on a rainy day (despite the fact it was about murder!)
I would love to hear what your top reads of 2021 have been?